Troubleshooting
Troubleshooting Electrical Systems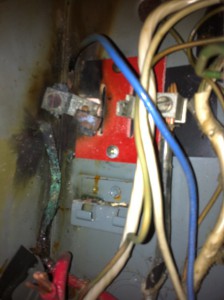 The time it takes to diagnose and fix an electrical issue varies from one project to the next.  The "not knowing" can cause anxiety, and we want to help alleviate some of this by providing you with flat rates so you can have an idea of what to expect.  We have a great success rate in diagnosing and fixing most of the common issues within two hours.
(Left) My client hired a handyman to install his hot tub.  A few code violations led to this explosion.

Common Issues Include But Not Limited To:
Switch stopped working
Receptacle stopped working
Receptacle has no ground
Light stopped working
Motion security light stopped working
GFCI keeps tripping
Breaker keeps tripping
Dimmer switch makes buzzing sound and is hot to the touch
Monster under your bed (these tend to take a little longer)
Our Rate
Includes repairing and/or replacing faulty equipment.  We stock many items in our service vehicles to reduce the time it takes going to the supply stores.  To help reduce these trips please fill out the request a quote page with as much detail as possible.